主要為代理Wacker silicone產品,包含工業用矽膠,光學膠,LED封裝矽膠,CVD precursor Silane原料,太陽能用結構矽膠,太陽能切片製程化學品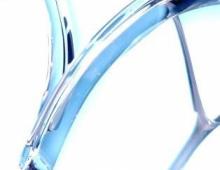 Lumisil 100
品牌:WACKER
規格:20 kg
描述:熱固化型光學貼合膠
顏色:光學透明
低硬度: Penetration 50mm
混合比 1:1
操作時間: 180 min
黏度: 500 mPa.s
收縮比<0/1%
Haze :0.1
YI值:0.2
Lumisil 101
品牌:WACKER
規格:20 kg
描述:熱固化型光學貼合膠
顏色:光學透明
低硬度: Penetration 50mm
混合比 1:1
操作時間: 30 min
黏度: 2000 mPa.s
收縮比<0/1%
Haze :0.1
YI值:0.16
Lumisil 102
品牌:WACKER
規格:20 kg
描述:熱固化型光學貼合膠
顏色:光學透明
低硬度: Penetration 50mm
混合比 1:1
操作時間: 180 min
黏度: 1980 mPa.s
收縮比<0/1%
Haze :0.1
YI值:0.2
Lumisil 202UV
品牌:WACKER
規格:18 kg
描述:UV固化型光學貼合膠
顏色:光學透明
低硬度: 10 (Shore 00)
混合比 10:1
操作時間: 24 hr
黏度: 1950 mPa.s
收縮比<0/1%
Haze :0.02
YI值:0.14
Lumisil 203UV
品牌:WACKER
規格:18 kg
描述:UV固化型光學貼合膠
顏色:光學透明
低硬度: 42 (Shore 00)
混合比 10:1
操作時間: 24 hr
黏度: 3000 mPa.s
收縮比<0/1%
Haze :0.03
YI值:0.11
Lumisil 205UV
品牌:WACKER
規格:18 kg
描述:UV固化型光學貼合膠
顏色:光學透明
低硬度: 45 (Shore 00)
混合比 10:1
操作時間: 24 hr
黏度: 5000 mPa.s
收縮比<0/1%
Haze :0.03
YI值:0.14
Lumisil 245UV
品牌:WACKER
規格:18 kg
描述:UV固化型光學貼合膠
顏色:光學透明
低硬度: 48 (Shore 00)
混合比 10:1
操作時間: 24 hr
黏度: 45000 mPa.s
收縮比<0/1%
Haze :0.04
YI值:0.14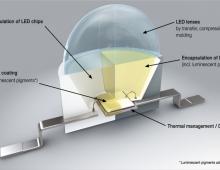 LUMISIL®740
品牌:WACKER
規格:
描述:NRI LED Encapsulant Silicone
Hardness:Shore A 50
Viscosity:3500mPa·s
Feature:For COB
LUMISIL®873
品牌:WACKER
規格:
描述:NRI LED Encapsulant Silicone
Hardness:Shore A 45
Viscosity:3600mPa·s
Feature:Good adhesive
LUMISIL®770
品牌:WACKER
規格:
描述:NRI LED Encapsulant Silicone
Hardness:Shore A 70
Viscosity:5300mPa·s
Feature:For HP PKG
LUMISIL®780
品牌:WACKER
規格:
描述:NRI LED Lens Silicone
Hardness:Shore A 80
Viscosity:18000mPa·s
Feature:For compression molding
LUMISIL®790
品牌:WACKER
規格:
描述:NRI LED Lens Silicone
Hardness:Shore A 90
Viscosity:40000mPa·s
Feature:For liquid injection molding
LUMISIL®887
品牌:WACKER
規格:
描述:NRI LED Lens Silicone
Hardness:Shore A 75
Viscosity:30000mPa·s
Feature:For transfer molding
LUMISIL®590
品牌:WACKER
規格:
描述:HRI LED Encapsulant Silicone
Hardness:Shore A 65
Viscosity:2500mPa·s
Feature:For Gold coated PKG
LUMISIL®591
品牌:WACKER
規格:
描述:HRI LED Encapsulant Silicone
Hardness:Shore D 40
Viscosity:2500mPa·s
Feature:For HP&CSP
LUMISIL®530
品牌:WACKER
規格:
描述:HRI LED Encapsulant Silicone
Hardness:Shore D 30
Viscosity:3600mPa·s
Feature:Good performance for Sulfur&MSL
LUMISIL®540
品牌:WACKER
規格:
描述:HRI LED Encapsulant Silicone
Hardness:Shore D 40
Viscosity:4500mPa·s
Feature:Good performance for Sulfur&MSL
05
WACKER:Semiconductor Precursor (CVD)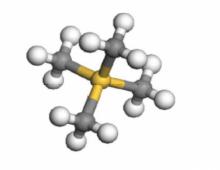 4MS
品牌:WACKER
規格:
描述:TETRAMETHYLSILANE
Si(CH3)4

4MS is commonly used in the semiconductor industry for Plasma Enhanced
Chemical Vapor Deposition (PECVD) of dielectrics and bi-layer SiC:H +
SiC:N etch stop films on several OEM platforms. 4MS is also used as a SiC
precursor for optoelectronics, power semiconductors and photosensitive films
applications.
HCDS
品牌:WACKER
規格:
描述:SEMICOSIL® 6C2S - HEXACHLORODISILANE
Cl3Si-SiCl3

Hexachlorodisilane is used primarily for deposition of silicon nitride at low
temperature (~ 550°C) by LPCVD, along with ammonia, and for the
deposition of silicon dioxide by CVD or ALD.
8MCTS
品牌:WACKER
規格:
描述:SEMICOSIL®8MCTS – EL
OCTAMETHYLCYCLOTETRASILOXANE

Octamethylcyclotetrasiloxane is commonly used in the semiconductor
industry for Plasma Enhanced Chemical Vapor Deposition (PECVD) of low-k
dielectrics
2M2M
品牌:WACKER
規格:
描述:SEMICOSIL® 2M2M - DIMETHYLDIMETHOXYSILANE
(CH3)2Si(OC2H5)2
M3E
品牌:WACKER
規格:
描述:SEMICOSIL® M3E – METHYLTRIETHOXYSILANE
(CH3) Si(OC2H5)3
TEOS
品牌:WACKER
規格:
描述:SEMICOSIL®TEOS – TETRAETHOXYSILANE
Si(OC2H5)4

• Ethoxysilanes are used in the semiconductor industry for Plasma Enhanced
Chemical Vapor Deposition (PECVD) and spin-on of low-k dielectrics and
anti-reflective coatings
HMN
品牌:WACKER
規格:
描述:SEMICOSIL®HMN (-EL) – HEXAMETYLDISILAZANE
NH[Si(CH3)3]2

SEMICOSIL® HMN-EL was developed for photoresists used in the
semiconductor manufacture. It can be used e.g. as adhesion promoter or as
silylating agent
HDMSO
品牌:WACKER
規格:
描述:HDMSO – HEXAMETHYLDISILOXANE
C6H18OSi2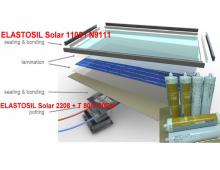 ELASTOSIL N9111
品牌:WACKER
規格:310ml/pc 25kg 225kg
描述:太陽能模組邊框密封膠
顏色:白/黑/灰
脫醇固化系統
觸變形流體/不坍塌
接著強度佳
耐候溫度- 50 °C to + 200 °C
硬度 Shore A 32
阻燃係數 UL94 V-0
表乾時間: 25 min
固化時間: 12 hr
ELASTOSIL 1105
品牌:WACKER
規格:310ml/pc 25kg 270kg
描述:太陽能模組邊框密封膠
顏色:白
脫肟固化系統
觸變形流體/不坍塌
接著強度佳
耐候溫度 -40 °C to + 150 °C
硬度 Shore A 40
阻燃係數 UL HB
表乾時間: 10 min
固化時間: 12 hr
ELASTOSIL 2208/ T80CN
品牌:WACKER
規格:20kg 5kg
描述:太陽能Junction Box灌封膠
混合比 6:1
極強的可流動性
優異的自脫泡性
硬度(Shore A)24
電絕緣:增加JB電伏安全係數
傑出的粘結性
ELASTOSIL 3210
品牌:WACKER
規格:
描述:CPV使用SOG製程膠
高透光性
無黏結力
極強的可流動性
優異的自脫泡性
ELASTOSIL 3201
品牌:WACKER
規格:
描述:CPV使用稜鏡接著膠
高透光性
自黏結力
極強的可流動性
優異的自脫泡性
EP-86
品牌:TBIM
規格:1 kg
描述:太陽能切片玻璃膠
混合比 1:1
硬度 Shore A 80
操作時間 15 min
固化時間: 4 hr
拉伸剪切力: 250kgf/cm^2
脫膠方式: 150℃/30min
TBI Materials_PG
品牌:TBIM
規格:Flexitank/IBC Tank
描述:太陽能切片切消原液
PG /聚乙二醇
Polyethylene Glycols
比重: 1.036
含水率<0.2
pH值: 7.68